Get Immediate Medical Attention Now
Don't wait for relief, visit Urgent Care of Grand Lake for fast and efficient treatment. We're here to help.
Urgent Care of Grand Lake, OK
Urgent Care of Grand Lake is a trusted healthcare provider dedicated to delivering prompt and compassionate medical services. With a team of experienced healthcare professionals and state-of-the-art facilities, we offer convenient access to high-quality healthcare for individuals and families in Grand Lake, Oklahoma.
Hours
Mon- Fri     9:00 am – 7:00 pm
Sat               9:00 am – 4:00 pm
Sunday Closed
Thanksgiving Holiday Hours
Wed             9:00 am – 4 pm
Thursday    Closed
Friday          Closed
Saturday    Closed

Experienced Doctors
At Urgent Care of Grand Lake, our team of experienced doctors brings a wealth of medical expertise to ensure you receive the highest level of care.
Professional & Friendly Staff
Our professional and friendly staff is dedicated to providing you with a welcoming and supportive healthcare experience.
Walk-In's Accepted
We welcome walk-ins at Urgent Care of Grand Lake, making it easy and convenient for you to access our expert medical care when you need it.
Same Day Appointments
We offer the convenience of same-day appointments, ensuring that you receive prompt attention for your urgent medical needs.
Comprehensive Healthcare, When You Need it
Our clinic specializes in treating non-life-threatening injuries and illnesses, providing a wide range of medical services, from minor injuries to routine check-ups, vaccinations, and lab tests. At Urgent Care of Grand Lake, we prioritize your health and well-being, offering efficient care without the need for an appointment. We are committed to making healthcare accessible and affordable while delivering exceptional patient experiences.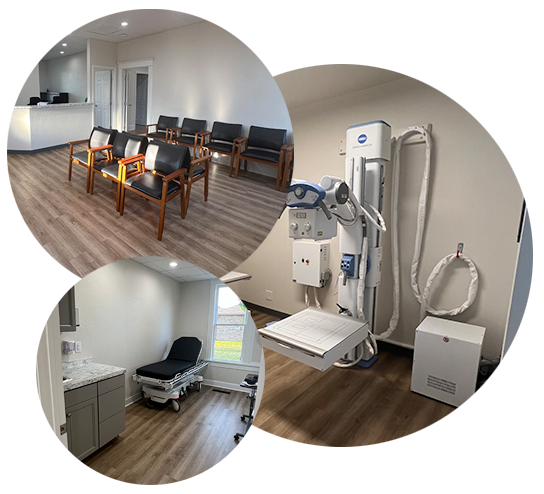 Urgent Care
Immediate medical attention for minor injuries or illness, without an appointment
X-Ray Services
Advanced imaging technology to diagnose and treat fractures, infections and other ailments.
Lab Test & Vaccines
lab tests, vaccinations, and basic preventive care.
Frequently Asked Questions
Does Urgent Care of Grand Lake, OK provide X-rays?
We pride ourselves on delivering top-tier medical care, and our X-ray services are no exception. We utilize state-of-the-art X-ray systems and advanced imaging technology to pinpoint the source of your medical concerns with unparalleled precision.
Do I need an appointment to visit this urgent care center in Grand Lake, or can I just walk in?
 we understand that medical needs can arise unexpectedly. That's why we proudly offer walk-in services, providing you with the flexibility and convenience you deserve. No appointments are necessary; simply walk in whenever you require medical attention.
Is it possible to obtain a medication prescription from this Urgent Care facility?
 After anevaluation of your condition, our experienced healthcare providers will determine the most appropriate treatment plan, which may include prescribing necessary medications. We maintain strong relationships with local pharmacies, ensuring that your prescriptions are sent promptly and are ready for pick-up when you need them.
Is insurance required for my urgent care appointment?
We believe that quality healthcare should be accessible to all. That's why we proudly offer services without the need for insurance. Our self-pay options are designed to provide top-notch medical care at affordable rates, ensuring that everyone can receive the attention they need, regardless of their insurance status.